As part of our veterinary staff, Old Dominion Animal Hospital Receptionists do a lot more than just answer the phone. We pride ourselves on having "real people" answer the phone so your concerns about your pet are not greeted by a recording. Our receptionists are your link to your pet's doctor and they treat your questions with care and respect.
Our Receptionists
Our receptionists are there to greet you as you come into our animal hospital and to assist you and your pet into our examination rooms, checking your pet's weight and getting the vital information about the reason for your pet's visit to our animal hospital. Our veterinary staff maintains your pet's computerized records, and will also help with discharge and go home instructions or medications. Please feel free to call them anytime you have questions about your pet's health care. We appreciate the busy and varied work our receptionist perform every day.
Jennifer was born in Ohio and moved to Virginia at the age of 11. She was raised with a cat and dog, whom she considered her siblings and best friends. Her family has dubbed her "The Animal Whisperer". After almost 20 years in education, Jennifer decided to pursue her love of animals by joining our team. She is happily owned by 2 dogs and 3 cats with plans for more in the future. Her dream job would be owning a petting zoo.
Sara grew up in Virginia. She always had a passion for animals. Growing up her family had several cats, hamsters, mice, fish and turtles. She became an EMT in 2007 and loved taking care of people and helping them in times of need. She feels like she is able to do that now as part of her job as a receptionist. She lives out in the country with her husband, two sons and their dog. In her spare time she loves to go camping, ride on her husband's motorcycle with him, bake, and decorate.
Michele is originally from Johnstown, Pennsylvania. She has an Associates degree in Travel and Tourism Administration from Pittsburgh Technical Institute. After college, she lived in Orlando, Florida. While there, she worked for Walt Disney World and Westgate Resorts, gaining extensive knowledge in customer service. She moved to Charlottesville, Virginia in 2011 with her husband and daughter. While here, she has been a stay at home mom. Michele and her family are active with their local Fluvanna 4-H group. She is also a dog mom to an adopted senior rescue named Bradley.
Our Practice Manager
It is our practice manager who keeps this animal hospital running every day. We couldn't function without her! The manager handles all the hiring, training, scheduling, and management of the veterinary staff. She is also responsible for the hospital budget, which includes ordering and stocking the animal hospital with supplies and equipment necessary for us to do our jobs.
The manager handles all our data and computer systems, oversees the practice performance, and makes sure we follow all safety practices. The job requires the ability to be flexible during the day as she might be receptionist one moment and veterinary assistant the next, but that's part of what makes the job so much fun.
If you ever have any problems at Old Dominion Animal Hospital, just ask to speak to our office manager because she can help. The manager handles all credit policies, and client services.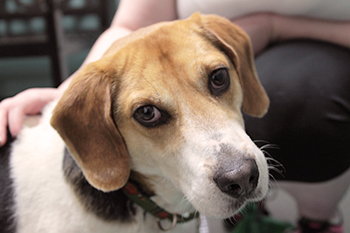 Our Animal Caregivers
Our kennel assistants are our real animal caregivers. They take pride in the way they care for your pets while they stay with us. They do everything they can to make your pet's stay safe and comfortable at our animal hosptial. They are the ones who feed, clean, nurse, walk, and play with your pet.
Our animal caregivers are often high school or college students who have a keen desire to pursue a career in veterinary medicine and this is often the position where they gain their first experience. Old Dominion Animal Hospital is pleased to give these students their first introduction into a wonderful life of caring for animals.