Old Dominion Animal Hospital pet appointments are scheduled longer than many hospitals: a full 30-minute visit so that we may have time to address all your pet's needs and your concerns. We want you and your pet to have the time to feel comfortable so that you can ask any questions you may have and examine your pet thoroughly. We have found over time that pet health benefits from a little more time.
All surgical procedures are by scheduled pet appointments as well. Drop-off services may be arranged as we are pleased to treat your pets during the day while you work. 
Visiting Your Pet In The Hospital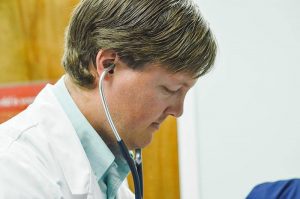 Old Dominion Animal Hospital has an Open Door Policy. You may visit your pet at any time during our regular hospital hours. While undergoing treatment in our hospital, your pets enjoy the comfort they receive from your visit.
Payment Policy
Full payment for our veterinary services must be made at the time our services are rendered. We will gladly advise you on anticipated costs for the care of your pets. We accept payment by Cash, Check, Visa, MasterCard, Discover, American Express, and CareCredit.

Cancellations
In order to be respectful of the medical needs of our patients, please be courteous and call promptly if you are unable to attend an appointment, as this time will be reallocated to someone who is in urgent need of treatment. This is how we can best serve the needs of our patients. If it is necessary to cancel your scheduled appointment, we require that you call 24 business hours in advance. Appointments are in high demand, and your early cancellation will give another person the possibility to have access to timely medical care.
How to Cancel Your Appointment:
To cancel appointments, please call 434-971-3500 for Charlottesville or 434-823-4300 for Crozet. If you do not reach the receptionist, you may leave a message on the voice mail.
Late Cancellations:
Late cancellations will be considered as a "no show".
No Show Policy:
A "no show" is someone who misses an appointment or surgery without canceling it 24 business hours in advance of your scheduled appointment. No-shows inconvenience those individuals who need access to medical care in a timely manner. A failure to present at the time of a scheduled appointment will be recorded in your chart as a "no show". The fee for missing a regularly scheduled appointment is $30.00 and for missing a scheduled surgery is $70.00. This fee will be added to your account and will need to be paid on your next visit.