Old Dominion Animal Hospital is a private, locally-owned veterinary clinic, not part of a national veterinary corporation.
Our Charlottesville animal hospital was founded by Dr. Charles H. Wood in 1982 and is now owned by Dr. Garrett Wood and his sister, Meredith West. Many of our staff have been with Old Dominion for years and feel like real family too!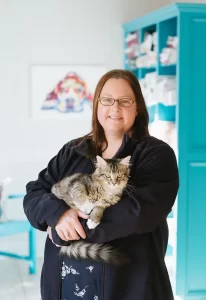 Our Crozet animal hospital was founded in 1982 by Dr. Martin Schulman and was purchased by Dr. Garrett Wood and Dr. Allison Kramer in 2020. Dr. Kramer has worked at Old Dominion since graduating from vet school, growing our Charlottesville location with Dr. Charles H. Wood and now expanding into Crozet with his son. Many of our Crozet hospital staff had previously been with Dr. Schulman and have remained on as part of the Old Dominion family.
That is how we want you to feel when you come in – just like family.