Spaying and neutering your pet is an important part of pet ownership. Spaying and neutering will prevent unwanted litters of puppies and kittens. It may help curb unwanted animal behavioral problems and is important for your pet's health. Spaying and neutering your pets can help to prevent reproductive diseases such as cancer and other disorders.
Spays or neuters may be scheduled by our receptionists at our Charlottesville and Crozet pet hospitals. Most pets will be admitted to Old Dominion Animal Hospital the morning of their surgery. It is important not to feed your pet after 10pm the night before surgery, unless you are directed otherwise. You will have the opportunity to discuss discharge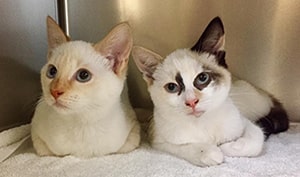 instructions with your veterinarian when you pick up your pet that afternoon. This will give you a chance to discuss pain management, incision care, exercise restrictions, and any other questions you may have with the doctor.