Charlottesville Practice Manager & Co-Owner – Meredith West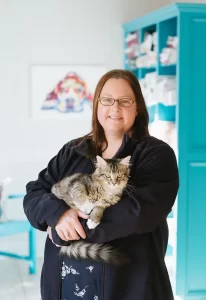 Meredith West started working at Old Dominion Charlottesville over a decade ago with her father, Dr. Charles H. Wood. She quickly became an integral part of our day-to-day functioning – just ask anyone in the office and they will tell you, Meredith can do it all!
Meredith purchased our Charlottesville location with her brother, Dr. Garrett Wood in 2020.
When not working, Meredith enjoys spending time with her husband, Jared, and two daughters, Isabel and Aubree. Meredith is a proud pet parent to her dog, Emma, and two cats.
Crozet Practice Manager – Jordan Kelly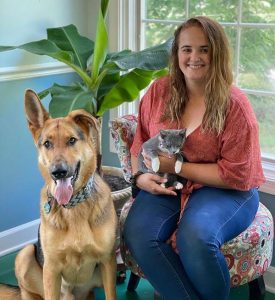 Jordan was born and raised in Seattle, WA. In January 2019, she moved to Charlottesville to manage a sport-horse facility. Eventually wanting a change of pace, she joined Dr.Schulman's Crozet Veterinary Care Center team in February of 2022 as a receptionist & assistant. Sticking through the ownership change in July of that year with Old Dominion, she worked her way from reception to eventual Practice Manager as of July 2021.
Jordan lives in Charlottesville with her German Shepherd, Bennie, CAT action feline adoptee, Roe, and her Off-the track Thoroughbred equine, Py. In her free time, she enjoys riding and competing Py in the sport of Eventing, as well as hiking and traveling with Bennie, and finding/attending opportunities to further her leadership and educational skills as a manager. Jordan strives to create and maintain a healthy team environment and prides herself on keeping a happy work environment for staff, clients, and patients alike.