Old Dominion Animal Hospital Charlottesville is conveniently located at the corner of Preston Avenue and Rose Hill Drive, in downtown Charlottesville.
Opened in 1982 by Dr. Charles H. Wood the practice was intended to be a family-owned business that supported the Charlottesville community. Dr. Garrett, his son, has fond memories of spending childhood summers working in the office, watching his dad practice medicine and the practice grow.
Dr. Wood was joined by Meredith and Dr. Garrett as they both entered into their professional careers.
Meredith as office manager and Dr. Garrett as a new vet school graduate. Together, the family worked hard to grow the practice into a place that Charlottesville families could bring their pets knowing they'd receive the highest quality care possible and feel like part of the family.
Dr. Wood retired in 2015 but stayed involved in the day-to-day running of Old Dominion until 2020 when he sold the practice to Dr. Garrett and Meredith.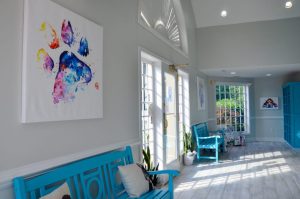 Since the opening of Old Dominion Charlottesville, the practice has seen a lot of changes but one thing has stayed the same- it's still a family business. Old Dominion still practices the highest level of care with a professionalism, passion, and a personalized approach that makes all clients feel like part of our family.