Easter is coming, and lots of us pet parents know how much fun it is to give your dog or cat an Easter basket! Learning how to put together the perfect gift basket for a pet is also a great way to celebrate a pet birthday, Gotcha day, or to welcome a new furry friend into your home. Below are some great tips for creating the perfect basket of happiness for a fur-person in your life!
The Basics
Every great gift basket should be centered around a favorite activity, treat, or toy that will really make your pet's day. For dogs, we recommend a new Kong toy filled with tempting fillings like all natural peanut butter or sliced apples and carrot sticks. Try freezing a Kong toy that has been stuffed to give your pup a reason to celebrate a hot day.
For cats, consider a new and stimulating toy. Food puzzles and motorized mice can be a wonderful way to treat and entertain your cat at the same time. Puzzles also let your cat use his mind and reflexes to learn and use those hunting instincts that don't get much use when you are a well cared for pet.
When selecting a basket, make it big enough for you to put this special center piece completely inside, forcing your pet to search for it and "open" the present. We recommend looking for cheap recycled baskets or boxes – your pet will not notice that it isn't a collectible. If you want to do something more stylish, consider buying a pet dish or a pet bed to use as your "basket", so that it can be useful as well as attractive.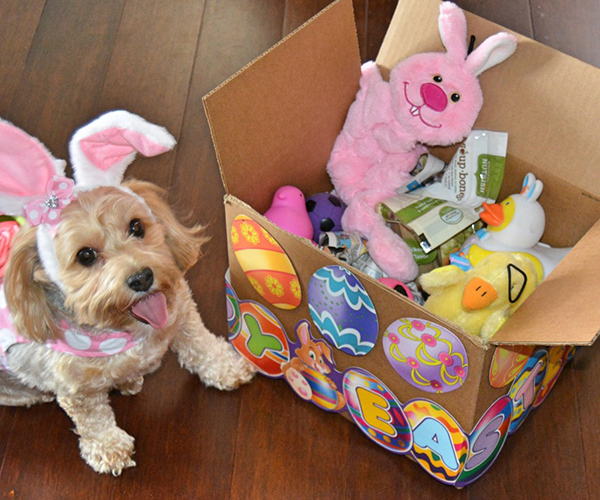 The Goodies
The best basket should appear to be overflowing with extra special goodies, so cram some in! Surround your special centerpiece with smaller toys, like tennis balls and rawhides or Nylabones for dogs. For cats, get a few small packets of catnip and some furry mice or cat jinglies. It can be especially fun to watch your cat sniff through the basket and choose his favorite toy to play with.
Homemade pet treats are also a fun way to fill your basket and give your pet some healthy goodies. You can buy handmade treats, or find some healthy, safe recipes for your pet and whip up some biscuits. Hide these among your toys in the basket and watch your dog sniff them out!
Keep it Simple
The best baskets are safe enough for the pet to go through with supervision to discover the treasure within for themselves. Avoid cellophane or grass in the basket and opt to decorate by getting more toys and treats instead. Unwrap treats and remove tags from toys so that your pet can safely enjoy the contents of your basket as they find them.
The Big Reveal
When you present your basket, make a big fuss and then set the basket where your pet can easily go through it and find out what is inside. Stick around and keep an eye on your pet to make sure they are safe, and enjoy the spectacle! You'll be surprised how much your pet will enjoy their special basket! Some cats may even enjoy the basket more than the contents.