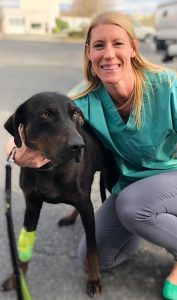 We are thrilled to be able to serve our patients in person once again in our animal hospital! While many restrictions have been lifted, we are following protocols to keep our clients and our staff safe:
Clients will be asked to wear a mask in the building regardless of vaccination status. Children under the age of 5 are exempt from this policy. We will have masks for you to wear if needed. Our staff will also be wearing masks. Even though the majority of the office has received one of the vaccines, we know that it is an imperfect system and we want to create a safe environment for clients and staff.
We are currently limiting clients to two family members per visit so that we can limit the amount of traffic in the hospital.
We are asking that clients scheduled for Doctor appointments drive up and call our office from one of the spaces out front. Our reception staff will get you checked in and make sure a room is available for you, then you may proceed inside.
At this time, technician appointments, surgery drop-off/discharge, and drop-off appointments will be curbside service.
If you are picking up food or medications, you may come into the office to pick them up from the front desk.
We can't begin to thank each of you enough for entrusting your pet's care and wellness to us. We hope that you know how much it means to us to call you family and we look forward to sharing the next season of growth at Old Dominion Animal Hospital with you.