We want to thank you for your patience and understanding as we try to navigate these uncertain times. The safety of our clients, community, and staff is the most important thing to us!
1- We are asking pet owners NOT to enter the building, in order to minimize contact distances. We will meet you at your car to collect your pet, give medications and discharge instructions. If you only need food or medication refills, please call ahead and we will bring the items out to your car and collect payment over the phone.
2- When you call to make your appointment our staff will go over the protocols for the appointment with you and make sure we have the proper contact numbers for you for the appointment. We are waiving any cancellation fees and drop off fees while this protocol is in place.
3- When clients arrive for their appointment, you should contact our office at 434-971-3500 to alert our team that you have arrived and what type of vehicle you are in. Please remain in your vehicle and our staff will come out to bring your pet in for the appointment. A technician will call you once you arrive to discuss the issues going on with your pet and go over the plan of action for your pet.
4– Unless we have arranged for a drop-off appointment, we ask clients to remain on-site in their vehicle during their pet's appointment so that they are immediately available should we have any questions and in order to return their pet as quickly as possible.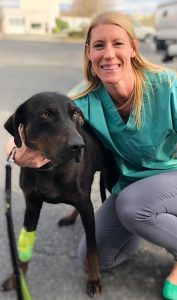 5- Once the pet has been fully evaluated, the doctor will call the client to go over their findings, recommendations, and answer any questions they may have. The client's call will then be transferred to a team member that will collect payment via credit card over the phone. We ask our clients to please use credit cards vs other payment types (cash or check) at this time if possible.
6- In order to protect the safety of our team, our doctors and other clients, we request all clients showing signs of illness that can be associated with COVID-19 (fever, cough, or trouble breathing) remain at home and not bring their pet to our office. Please call to discuss options to help your pet.
7- Please call us if you would like to schedule a boarding appointment and we will email you a copy of the form. When you get here please give us a call and we will bring your pet to your car and we can settle things over the phone. If you currently have animals boarding with us give us a call and we will meet you with your pet in the car.
Please call us at 434-971-3500 or email us at ODAH82@gmail.com at any time to discuss your pet's care in further detail, or with any questions and concerns you have.