Let's face it – the best part of the season is making, sharing and EATING cookies! Christmas cookies make great gifts, and they can be a fun project for the whole family. You can share them with everyone, including Fido. Make a batch of cookies to spoil your special friend, or make Canine Cookie Plates to give to your favorite fur-friends and family. There are so many great recipes that make it easy and fun to whip up a batch of wag-ilicious holiday cheer!
You'll want to start by stocking up on cookie cutters. Make sure you choose cutters that are the right size for your pooch. If the cookies are too small, your dog may choke on them rather than chewing them. Likewise, your senior pug may have a hard time gobbling up a giant peanut butter cookie, so plan to make a cookie that will be easy for your dog to enjoy. You can use holiday themed cutters, or have some fun with breed specific cutters from Good Dog in a Box.
Next, you'll want to find the right recipe. We recommend making a few different types of treats to suit lots of different tastes, especially if you plan to make "Pup Plates" for friends. Find out what your fur-friends like the most – apples, pumpkin, peanut butter, bacon, carob – whatever makes your pup wag for more! You will also want to consider any possible allergies and sensitivity to gluten and make substitutions when necessary.
Now it's time to shop recipes and get baking! The holidays are filled with delicious flavors that make us think about celebrating with friends: apples, cinnamon, sweet potatoes, pumpkin… and most of these flavors make our pups drool, too! Visit My Baking Addiction for three versatile recipes that let you share your favorite seasonal flavors with your dog. This simple recipe has three variations – Peanut Butter Pumpkin, Sweet Potato, and Apple Carrot – making it fun and easy to create the perfect holiday plate for your pooch's palate!
The holidays are all about spoiling our loved ones with special goodies that say "I love you!", and doesn't every dog love peanut butter and bacon?! Nutty Bacon Dog Treats from Dog Hill Kitchen are a wonderful combination of peanut butter and bacon that can tempt even the pickiest eater. The recipe includes tempting maple syrup and even offers an alternative to peanut butter.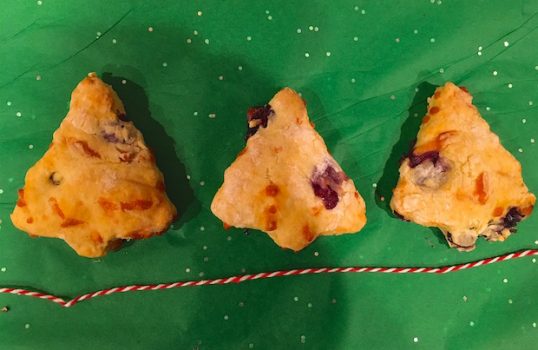 Variety is the spice of life, and we love the varied flavors offered by Pet Central's recipes for Peanut Butter Banana Treats, Cheesy Berry Biscuits, and Carrot Apple Oaties. If your pup is inclined toward savory treats rather than sweet ones, we have found that you can use 1/2 cup of cooked carrot to replace the berries in the Cheesy Berry Biscuits with tail-thumping results.
Food coloring is generally a bad idea when making dog treats, but if you want to make your Canine Cookie Plate a little more festive, try the three cookie recipes from The Dog People. These healthy recipes that add a splash of color like Green Spinach and Red Cranberry Holiday Treats allow you to create a pretty plate that will be as tasty to your pup as it is pleasing to your eye. You can also decorate with dog-friendly toppings like pumpkin seeds, dried cranberries and blueberries, and carob chips (white and brown).
Whatever scrumptious cookie you decide to make, keep in mind that just like humans, dogs can put on a few extra pounds during the decadent holiday season. Remember that these are special treats and don't give out too many cookies at once – you could upset Fido's tummy (or cause him to waddle rather than walk). Dogs love a good walk in the brisk weather as much as they love cookies, so be sure that your pup is getting plenty of exercise, too. An extra walk could earn them an extra cookie (or two)!
Bake up a batch of Canine Christmas Cookies and celebrate the season with every member of your family!