Late summer and fall in Virginia can often bring severe weather and even hurricanes. You may have to evacuate your home if a storm hits our region, and the last thing you want to do is leave your pet behind. Emergencies can be stressful, and creating an emergency evacuation plan will allow you to handle unexpected disaster calmly and safely. Incorporating your dog and other pets into your evacuation plan will keep them free from harm.
Learn about the Pets Act
You are legally allowed to include your pets in an evacuation because of the Pets Evacuation and Transportation Standards Act (also known as the Pets Act), an initiative that resulted in changes to federal and state emergency planning laws after Hurricane Katrina. The Pets Act requires states that seek assistance from the Federal Emergency Management Agency (FEMA) to account for service animals and pets in evacuation plans in during a disaster. Now there are several federal and state laws that specify the evacuation, rescue, and recovery of animals, in addition to sheltering, identification, and tracking.
Plan Your Emergency Evacuation
Always follow the instructions of local authorities during an emergency, but be prepared in advance with what you need and where you will go. You may need to leave your home at a moment's notice, so have things ready for pets and family members BEFORE an evacuation notice. Dogs and ats can sense your emotions, making preparation important because it will allow you to stay calm and focused. Pet disaster preparedness will not only reduce your anxiety but will help reduce your pet's anxiety as well.
Do not assume it's enough to leave your pets in a safe place to fend for themselves during an emergency or disaster. Tree damage, flooding, and wind can put your pet in danger even in a location you thought was secure. Evacuating together can save your pet's life, and saves first responders from risking their lives to save your pet.
You might not be home when disaster strikes, so plan how your pets will be rescued if something happens when you are not with them. Make arrangements with a neighbor who stays home or someone who can access your pets when you can't like a dog walker, pet sitter, or local doggy daycare. Place a rescue alert sticker at your front door to let responders and neighbors know there are pets inside your house, and include the types and number of pets in your home in addition to your veterinarian's phone number. If evacuate with your pets, please write "Evacuated" across the sticker to help rescue workers avoid wasting precious time inyour home.
Prepare for Disaster
Make your family ready for any plan you need to follow. Keep your pets' vaccinations current in case your pet must stay at a shelter during an evacuation. Microchip your pets – microchips allow veterinarians and shelter workers to scan your pet to get your contact information, allowing you to be reunited with your pet if you get separated. Keep your pet's microchip registration up to date and be sure that if your cell phone is what you have with you, that the cell phone number is listed as primary. Dogs should also be wearing a collar with identification tags. You should also have any important documents handy. Consider including:
vaccination certificates and current heartworm test results.
information about any health issues, medications, or behavior problems.
contact information for your veterinarian.
identification information and a current photo of you with your dog.
You should have a leash ready for your dog as well as equipment for safe car travel such as a harness ready and easy to get to, perhaps near a door. Pet carriers can also be useful – you'll need one for each of your cats, and dogs may benefit from a carrier, too. You can use the carrier for transport or as a safe place for your dog to rest during stops or in a shelter or your final destination. Write your pet's name and your contact information on the carrier.
Assemble a Go Bag
A pet disaster preparedness kit needs to include everything your petwill need in an emergency evacuation. Remember to include food, medications, bedding, and any items that meet your pet's basic needs. Keep it in an easy-to-carry waterproof container and store it where you can easily get to it. Include items such as: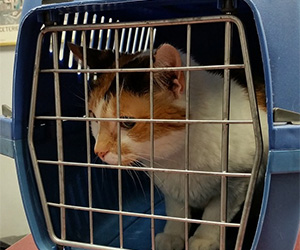 bottled drinking water (during an emergency, tap water can be contaminated).
food in waterproof containers or cans. (Choose pop-top tins or pack a can opener.)
food and water bowls.
prescription medications and other required supplies like tick medication and heartworm preventative.
a pet first aid kit.
litter box, litter, poop bags and other clean-up supplies.
familiar items like toys, bedding, and blankets to comfort your pet.
stress-relieving items like an anxiety vest or calming sprays to reduce anxiety.
Know Where You Can Go
Don't assume your pet can stay with you wherever you end up during an evacuation. Research emergency shelters to find out if they allow pets. Many only allow service animals for public health reasons. If your petcan't stay with you at a shelter, look for pet-friendly hotels, boarding kennels, and animal shelters that will keep your pet safe until you can return home. Talk to family or friends outside the evacuation area to see if they are willing to keep your pet during an emergency.
This article originally appeared on the AKC web site.