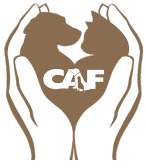 Dr. Charles Wood realized that small Charlottesville area pet rescue groups struggle to raise funds while caring for the needy animals in their charge. As a result, he formed the Companion Animal fund in 2005. It is a Non-Profit 501-C3 that has established a perpetual trust for the care of neglected and almost forgotten animals. Additionally, the fund aids the pet rescue groups that serve these animals. All contributions are tax-deductible and go directly to pets in need.
The Companion Animal Fund provides care for thousands of animals thanks to direct financial gifts to rescue organizations, pet sanctuaries, and SPCA's. These groups provide food, shelter, veterinary services, and loving attention to homeless and unwanted animals while actively working to adopt out every pet to a permanent home. The CAF furthers their efforts, using the resources at Old Dominion Animal Hospital to enhance a pet's adoptability.
All administrative costs are paid for and provided by outside sources. Therefore it is possible to donate 100% of all funds to rescues and shelters. The CAF is overseen by a board that is responsible for raising money and determining how these monies are distributed to needy groups.
Please help us help the animals. Learn more or make a donation to The Companion Animal Fund (CAF) by visiting their web site: www.cafva.org.