There is a lot of information to keep track of in the midst of the COVID-19 outbreak. There is good news for pet owners: there is no evidence that pets can catch or spread the disease directly. This does not mean that there are not concerns that pet owners should consider.
While it is true that your pet cannot catch COVID-19 or spread it to other humans, your pets do plat a part in the spread of infection. Because we touch our pets and allow them to lick us, they can carry the virus on their fur or in their noses and make other people sick. Your pets should be following the same "stay at home" guidelines that you are – walk your dog on a leash and don't allow strangers to pet him, and keep your cat indoors. Your cat could come in contact with trash or other items used by an infected person and spread the disease not just to you and your family, but to other members of the community.
This means that you also need to stay away from your pet and avoid touching her should you contract the disease. Make a plan for someone who can care for your pet should you become ill. You will also want to make a plan for someone to care for your pet should you need to be hospitalized. If you have contracted the disease and do not have an alternate caregiver, keep your pet quarantined with you. Be sure to wash your hands before and after handling your pet.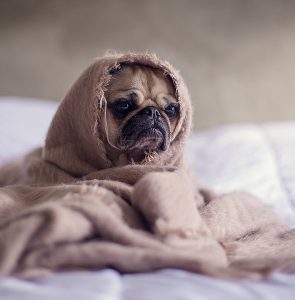 It's a good idea to have supplies ready in case you must be quarantined with your pet. Make sure you have medications, litter, food, and any other supplies you need to take care of your pet for a couple of weeks. If you have a dog and live in an apartment community or other high-density population area, make sure you have a dog mat or litter box where your pet can relieve himself rather than going outside.
Consolidate your pet's health records and health care requirements. The SPCA recommends creating a "pet health dossier" that can be used to ensure that your pet receives the proper care in case of an emergency or hospitalization. Make sure all vaccine records, health conditions, licenses, and medications are kept in one place that is easy to find and use should they be necessary.
If you have any questions about how COVID-19 affects your pets and family, call us at 434.971.3500 and we will do whatever we can to help. If we all work together, we can keep our families safe and prevent the spread of this disease.