Let's face it – everyone loves pumpkin! And we can hardly wait for fall to roll around every year with all its pumpkin goodness. Our dogs love it, too, AND it's good for them. Most dogs consider it a special treat to get a spoonful of plain canned pumpkin, but you can spoil them even more with some fun dog-friendly treats! Try some of these recipes and let your pup share in the taste of the season.
Note: Make sure you use only canned pureed pumpkin, not canned pumpkin pie mix, which has added sugars and spices.
Frozen Pumpkin Dog Treats
Make these treats super fun when you use silicon molds to create fun shapes. You can even choose spooky shapes just for Halloween.
Ingredients
– 1 cup plain yogurt
– 1 cup pumpkin puree
Directions
– Mix pumpkin and yogurt together in a bowl
– Divide the mixture evenly into an ice tray or molds
– Freeze for 24 hours
– Pop the treats out of the mold and put them into a freezer bag for storage. You can also leave them in the ice tray if you have space in your freezer!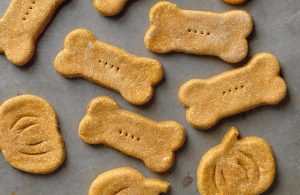 Peanut Butter and Pumpkin Dog Treats
Ingredients
– 2 cups flour
– 1 cup canned pumpkin
– 1/2 cup peanut butter (make sure it is Xylitol-free)
Directions
– Preheat your oven to 375°F
– In a large bowl, mix together the pumpkin and peanut butter
– Stir in the flour and combine the mixture into a dough
– Roll out the dough onto a floured surface
– Cut the dough into shapes with your favorite cookie cutter
– Place the treats half an inch apart on an ungreased cookie sheet
– Bake for 12 minutes
Use your favorite Halloween cookie cutters to make these festive!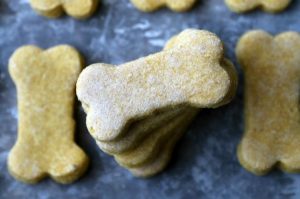 Banana Pumpkin Dog Treats
Ingredients
– 3 cups whole wheat flour + extra for dusting counter
– 2 eggs
– 1 cup pumpkin puree
– 1 banana, mashed
Directions
– Preheat oven to 350°F.
– Mix eggs, banana, and pumpkin together. Add flour and mix until all the flour is incorporated.
– Lightly dust the counter and a rolling pin with flour, then roll out dough to approximately 1/8″ and cut out treats.
– Lay on a baking sheet and bake for approximately 20 minutes. Cool completely before giving it to your pup!
You can give your pup some of these delicious treats to keep him sitting and behaving nicely when trick-or-treaters arrive, or you can give him something special while you sip your favorite pumpkin latte! Share your favorite flavor with your best friend this season. Happy Halloween!