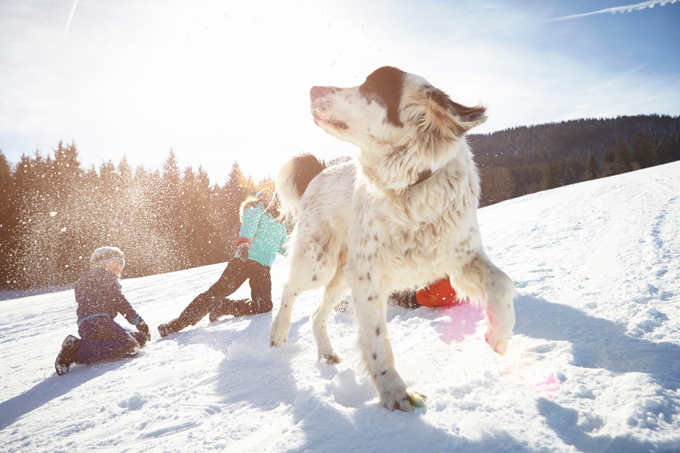 Do you and your dog love the snow? This year, plan a winter getaway that lets both of you enjoy an escape to a winter wonderland! These are a few of our favorite resorts to enjoy the season with your dog.
The Ritz-Carlton in Avon, Colorado is the perfect Rocky Mountain luxury resort for you and Fido. You can both head out for some snowy fun, or you can hit the slopes while Fido enjoys doggy room service specifically tailored to suit his dietary needs. You may even be jealous – he can also enjoy an in-room doggy massage.
Enjoy this idyllic mountain setting in your private cabin or explore the trails with Fluffy at this lovely winter retreat. You are required to crate Fluffy when you can't bring her with you, but you are allowed to bring her to nearly every corner of the resort, making it almost unnecessary to spend any time apart.
Jackson Hole is one of the most popular ski, snowshoe, sledding, and snowmobile destinations in the world, and the Snow King resort at the Jackson Hole hotel allows you to appreciate all the reasons why. The hotel offers fun activities for both two and four legged guests, and your dog can even enjoy world class Filet Mignon with you in the hotel restaurant, Hayden's Post.
The proprietors of Mountain Top Inn and resort are self-proclaimed pet lovers, and their love shows, from the warm welcome they offer you and your pet to the luxurious appointments in their deluxe cabins and rentals. The 350 acre resort offers an impressive forested mountain view and ski trails for you and your pup to explor, and your dog will have a treat waiting for them from the Vermont company, Good Dog!
Perhaps your pup is not as much of a snow hound as he is a city dweller. You can still enjoy a great winter getaway at The Muse in New York. There is no extra fee for your pet to stay with you, an the hotel is near Canine Court, Manahattan's famous doggie playground, boasting 15,000 enclosed square feet of fields, obstacle courses, and other dog-friendly features. After your pup has explored every inch, treat him to an acupuncture appointment at the resort!
No matter where you spend the winter with your best friend, make sure to keep him warm and protect his feet from snow and ice, and always comb out the ice balls from his coat after romping in the snow. And, of course, always keep a treat handy makeup for all the calories he'll burn while playing!